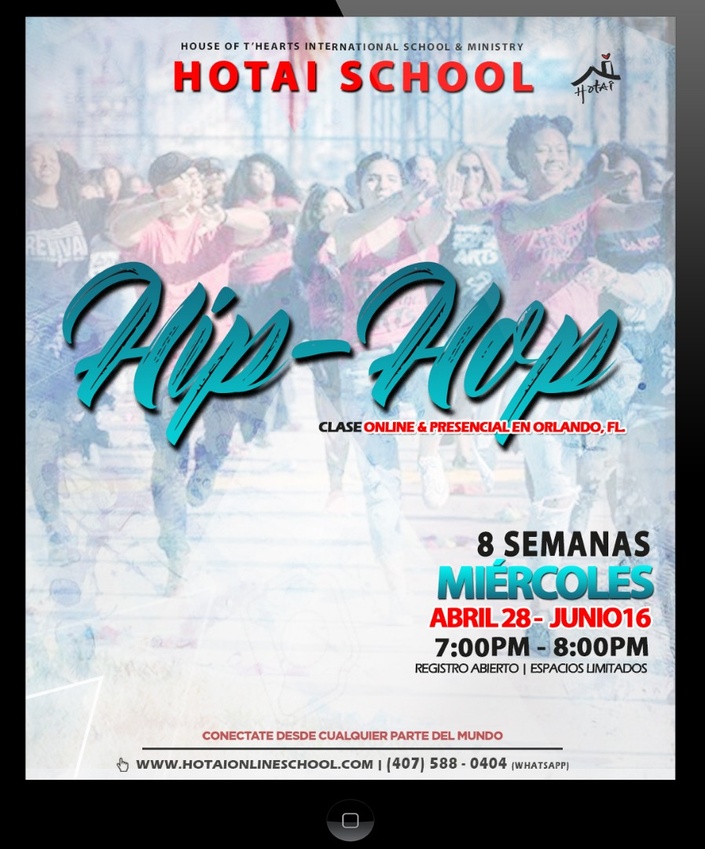 WEDNESDAYS: HIP HOP PRAISE IN STUDIO AND ONLINE
8 week course - open level - all ages! 7pm-8pm
Inscribirse en el curso
8 WEEK COURSE OF EXCITING HIP HOP CLASSES
CLASS WILL BE TAUGHT IN ENGLISH LANGUAGE
COURSE FOR ANY AGE AND LEVEL
La mejor inversión: Tu formación Ministerial ¡Este es tu tiempo!
Tu instructora

Throughout Nicole'ss career as a professional dancer in the industry for over 19 years, one thing that she have learned is that there is no limit to what you can do in dance when your mind is free.
Freestyle dance has allowed me to explore and go on a journey within myself as I discover new dance rhythms and intricate dance moves to the flow of any song she hears. Each time, it's an adventure taking her to new places she never been before. It is in the music that she finds freedom to follow it's lead, and it's in the dance that she find open doors to express her creative vision in various dance projects.
Nicole performed in numerous locations within the country appearing in concerts, live shows, and music videos, as well as television and film productions. She opened up for America's Best Dance Crew, The Jabbawockeez as a freestyle dancer; she danced for Gospel recording artists Judith McAllister and Mary Mary; and Christian Hip-Hop band Group 1 Crew just to name a few. She appeared in the movie "To Write Love On Her Arms," and tv production "Tye Tribbett Christmas TBN Special: Born King from The Holy Land Experience."
Nicole been fortunate to see dance displayed as a universal language of expression for others as well, especially in Assisted Living and Memory care facilities. It has been an honor for her to be given an opportunity to brighten up their days with music and dance. Nicole DJ all their favorite songs and teach them moves that they can do, along with me performing for them. She has seen frowns turn into smiles and atmospheres filled with joy. Dancing is therapeutic. No matter where she is, she just like to dance. Come join me as we explore your creative flow in the style of Hip-Hop.